The Scholl Community Impact Group Board of Directors come from a variety of backgrounds, but share one thing in common. They're committed to the Scholl Community Impact Group mission and the people and families we serve. They not only provide guidance, but make themselves available, too.
Lenelle Scholl - Director
Lenelle has lived in Winchester WI all her life, and has been passionately working with horses for the past sixty years. At the bright young age of six years old she got her first horse. Over the years she has mastered, trained, bred, shown horses, and instructed students in Western, Dressage, Jumping, and Eventing. Over the years she has realized her passion which is working with kids at risk and on the Autism Spectrum. Horses are the true teachers and heroes, us humans facilitate the process. This program is her true passion.
Bette Berga – President
Bette resides in Wakefield Michigan with her horse, dog, and cat. Her interests are western and dressage riding. Retired and a very active volunteer and program decision maker.
Linda Anderson – Treasurer
Originally from Crystal Falls MI, my husband Karl and I came to Mercer, WI in 1989. We have 2 children, Kati and Max. I currently work the Mercer Area Chamber of Commerce as the Office Manager. I joined Scholl Community Impact Group board of directors as treasurer in 2013. I am proud to be part of this amazing organization.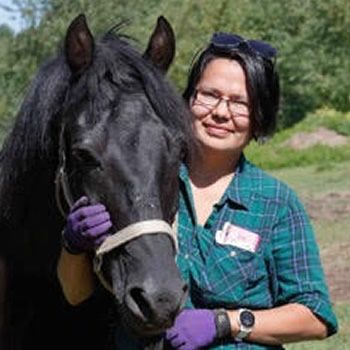 Celeste Hockings - Secretary
Boozhoo! I am a tribal member of the Oglala Lakota of the Pine Ridge. (Part of the Sioux, a horsemen nation) I have lived in the Northwoods of Wisconsin for the majority of my life.
I started learning how to ride with Lenelle back when I was 10 years old during the time Pony Club was at her farm.
I went to school for Equine science in University of Minnesota Crookston for 2 years. I started to volunteer for the Scholl Community Impact Group back in 2014 when I graduated from UW Stevens Point and came back home to work for the Lac du Flambeau Tribal Natural Resources Department.
Within the past year, I have been working towards my Path International riding instructor credentials for equine therapy. I have had the pleasure of working with all these wonderful kids during my journey.
Leah Loew – Board Member
I am Leah Loew. I started volunteering at Scholl Community Impact Group in 2017 when a friend mentioned my name to Lenelle.  My children are homeschooled, so my son Jacob (19) and daughter (17) volunteer with me. We live in Boulder Junction with my husband Matt and older daughter Rebekah. We run a small resort that Matt's parents built in 1947. Matt helps at SCIG when he brings students from Star Academy.  We enjoy volunteering because it allows us to work with horses and children.  In 2020 I became a board member
Susan Homan – Board Member
Arriving in the northwoods with her husband and 2 daughters 25 years ago, Sue began working with students at LUHS. Currently she is a part of Lakeland Star School/ Academy. These connections led her to SCIG where she began as a volunteer. Since then, she has become a member of the board and thanks to Lenelle's immense equine knowledge, has gained the skills to ride and care for her very own horse. "Junior" will be used for the program and shared with her family, especially with her 2 granddaughters.